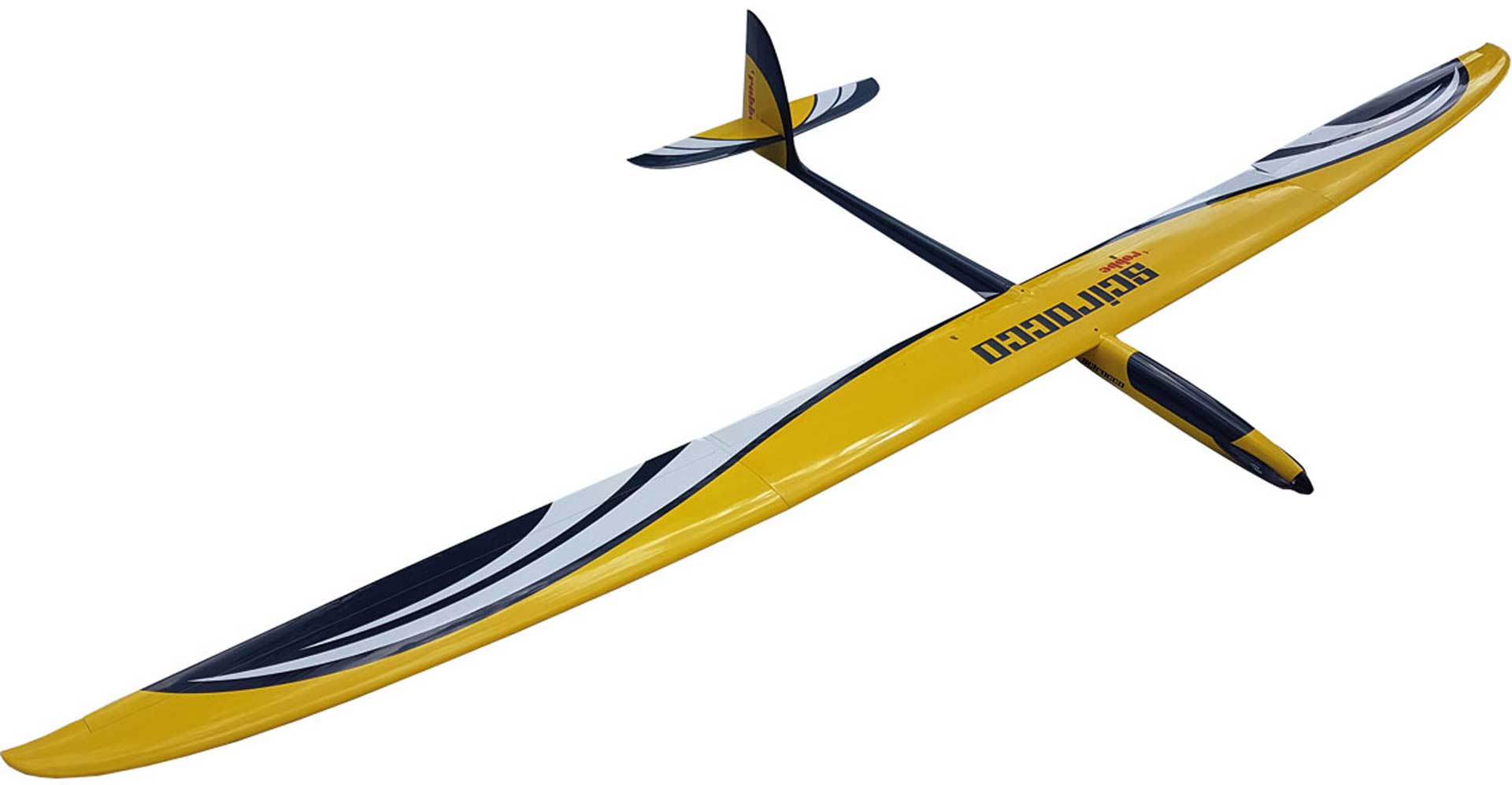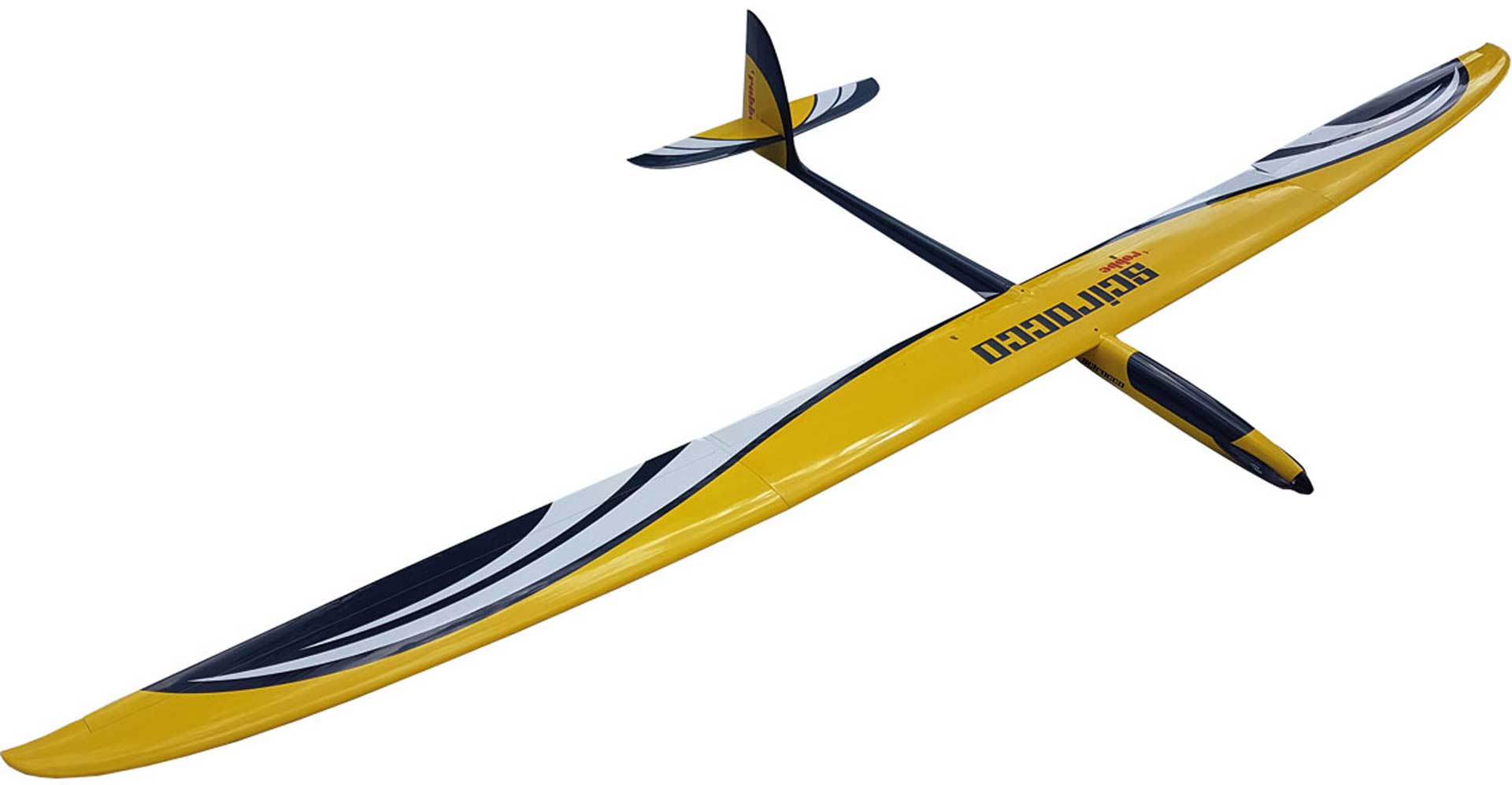 ROBBE SCIROCCO 4,0 M ARF FULL-GRP HIGH-PERFORM ANCE SAILPLANE
Manufacturer number:
2633
Only a few left in stock, ready for shipment within 1 working day. Delivery time 1-3 working days.
Downloads
Description
"ROBBE SCIROCCO 4,0 M ARF FULL-GRP HIGH-PERFORM ANCE SAILPLANE"
The Scirocco is a high performance F5J model in modern GRP/CFRP shell construction with appropriate strength. Due to the dynamic flight characteristics the model is suitable for almost every application. Whether in weak thermals or strong winds, "SCIROCCO" always shows its good-natured and easily controllable side. The hand start of the 4m model is no problem thanks to the low basic speed and can be safely carried out by the pilot alone.
But the Scirocco also unfolds its true temperament in faster and narrower aerobatics and masters the figures.
Despite its electrical design, it is increasingly used on slopes.
The elaborate design enables excellent flight attitude recognition. The surface connection from the middle section to the outer wings is force-locked and clean using a CFRP square spar.
The model is available in two versions (ARF/PNP) and largely pre-assembled in the PNP version. The motor, the servos and the wiring are completely installed so that the construction effort is reduced to a minimum. In the ARF version you have the possibility to use individual RC components at your own discretion.




Technical data
| | |
| --- | --- |
| ARF: | 9754423 |
| Airfoil: | HN-354 |
| Ausführung: | ARF - ALMOST READY TO FLY |
| Bauerfahrung: | Fortgeschritten |
| Control: | H,S,Q,M,WK |
| Drive Type: | Electro |
| Empty weight approx. (g): | 2785 |
| Flight Skill: | Advanced |
| Flight weight approx. (g): | 3790 |
| Fuselage: | GfK/CfK |
| Länge (mm): | 1710 |
| Manufacturer: | Robbe |
| PNP: | 9754424 |
| Rec. Battery: | 4-5S/4000 LiXX |
| Wing-span (mm): | 4000 |
| Wings: | Glassfiber/Carbon |
| empf.Motor: | Ro-Power 4356-600 |
Box contents
- Model SCIROCCO in full-GFK/CFK design, multi-coloured lacquered in form
- CFK hexagon socket
- incidentals
- Assembly instructions in German/English


Technical data
Videos
Das Produkt SCIROCCO 4,0 M ARF VOLL-GFK von ROBBE in der Kategorie Electric Glider Models hat eine Spannweite von 4000 sowie ein Gewicht von 3790. Die Steuerung des Modells erfolgt über die Funktionen H,S,Q,M,WK. Das Modell ist als ARF - ALMOST READY TO FLY ausgeführt . Wir empfehlen einen 4-5S/4000 LiXX Akku für dieses Elektroflugmodell.
* Erklärung Steuerfunktionen:
H ... Höhenruder
S ... Seitenruder
Q ... Querruder
M ... Motorsteuerung
V ... Vektorsteuerung
LK ... Landeklappen
SK ... Störklappen
WK ... Wölbklappen
EZFW ... Einziehfahrwerk
SKU ... Schleppkupplung
( ) ... optional - in Klammer geschriebene Steuerfunktionen sind bei dem beschriebenen Modell optional verfügbar
Die Firma ROBBE (benannt nach dem Firmengründer Robert Becker) wurde 1921 in Deutschland als Sägewerk im Vogelsberg-Gebiet gegründet. Mit dem Modellbau wurde ab 1945 begonnen, zunächst mit dem Import von Balsaholz. Ab 1958 bot ROBBE ein komplettes Programm für den Modellbau an. Dazu gehörten viele Innovationen im Bereich Fernsteuerungstechnik, aber auch moderner Kunststoffverarbeitung. Viele bis heute legendäre Produkte sind dieser Zeit entsprungen. In den 60er Jahren entstand eine enge Kooperation mit einem japanischen Fernsteuerungshersteller. Dazu gesellten sich mehrere Distributionen in vielen Bereichen des Modells. Unter anderem im Bereich Hubschrauber durch dir Übernahme der Marke Schlüter. Bis 2015 war das Unternehmen Robbe Modellsport GmbH & Co. KG im deutschen Grebenhain (Metzlos – Gehaag) ansässig und musst in diesem Jahr schließen. Aktuell befinden sich Produkte der Marke ROBBE im Vertrieb eines der größten europäischen Modellbauhändler.