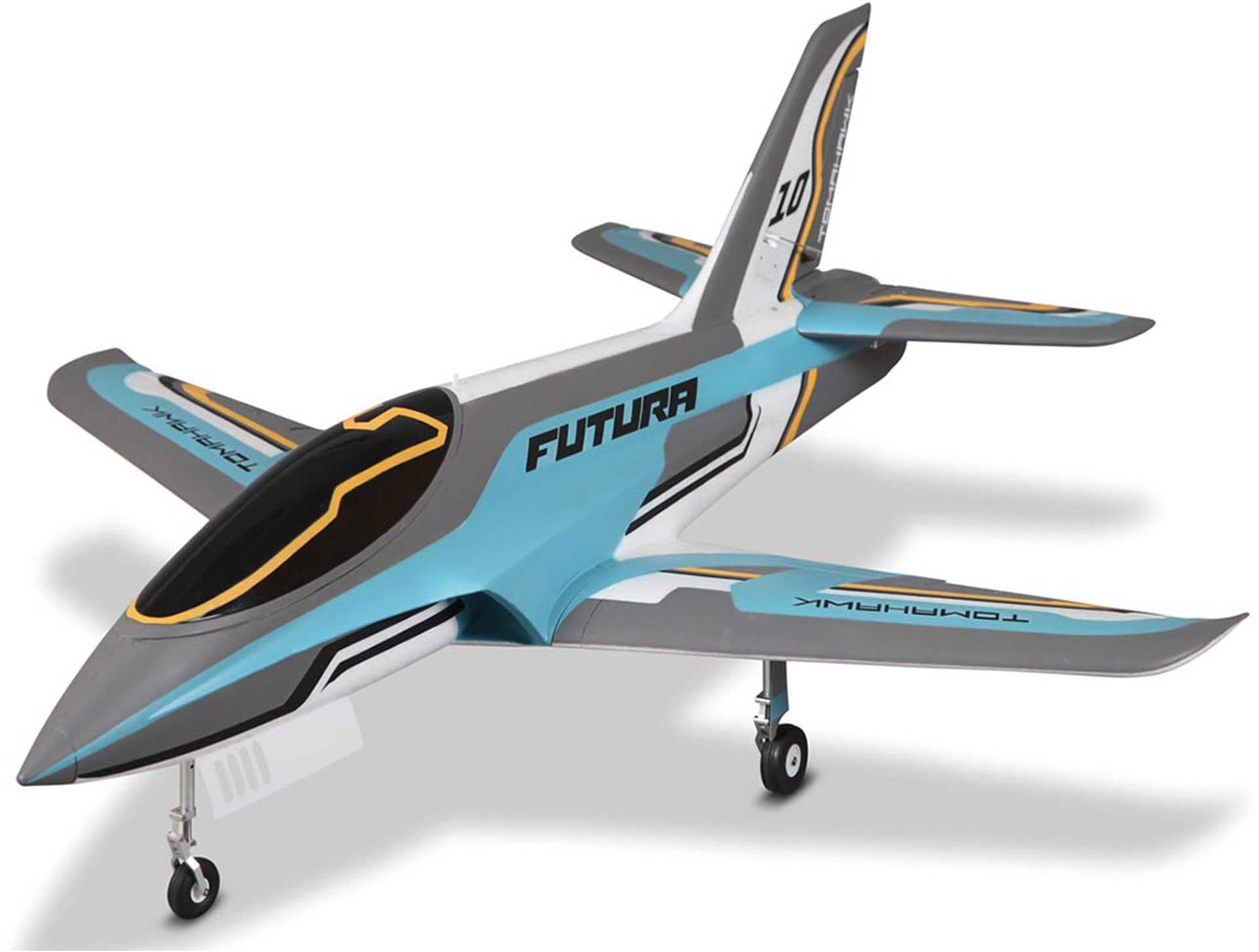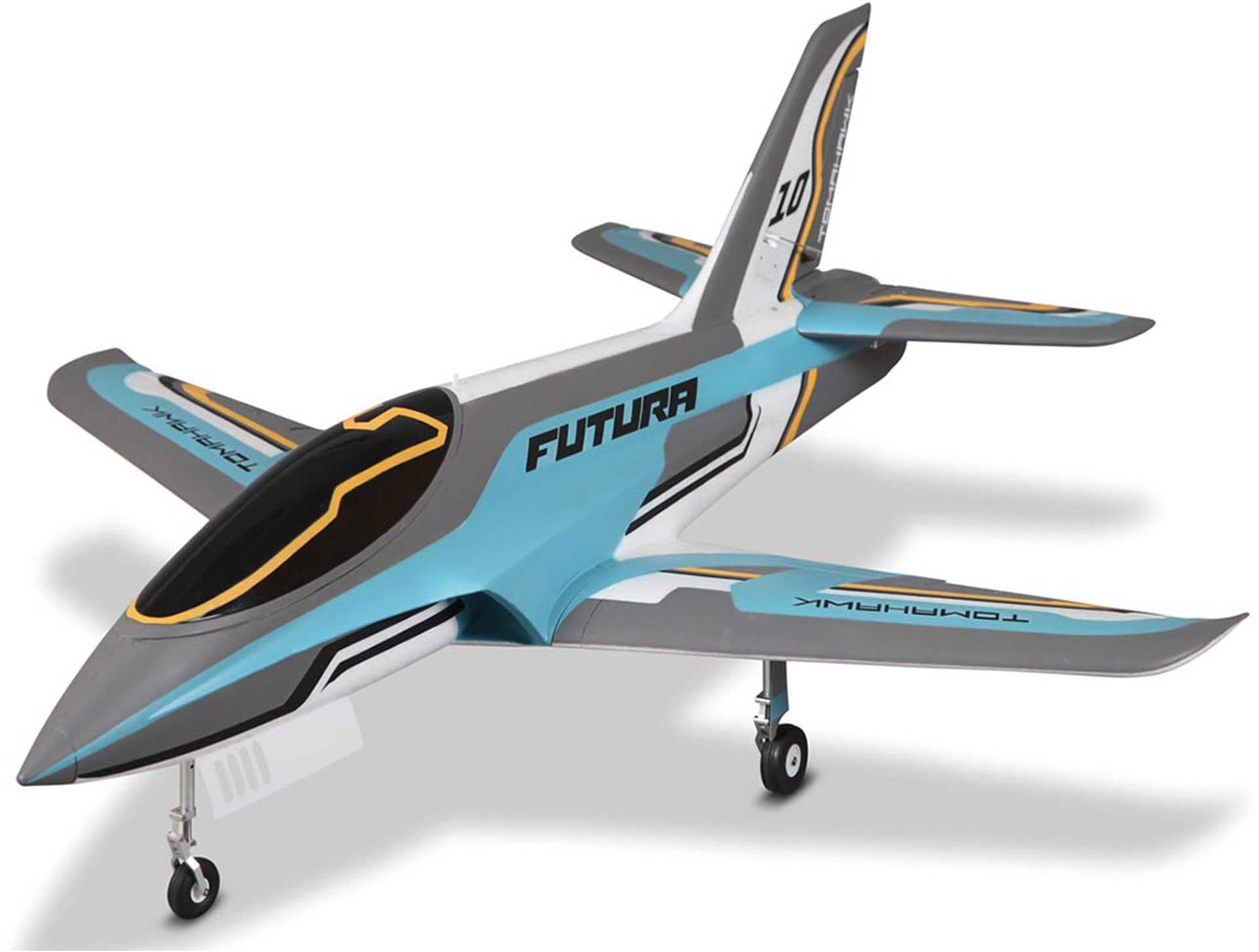 FMS Futura V2 Jet EDF 80 PNP - 106 cm - Blue -Combo incl. Reflex Gyro System
Manufacturer number:
DPFMS112P-REF
Only a few left in stock, ready for shipment within 1 working day. Delivery time 1-3 working days.
Description
"FMS Futura V2 Jet EDF 80 PNP - 106 cm - Blue -Combo incl. Reflex Gyro System"
The successful jet from Tomahawk - the Futura V2 from FMS
The Futura V2 was developed by FMS in cooperation with Tomahawk Aviation from Germany. With the Futura V2 the German/Chinese engineering team has succeeded in creating one of the most outstanding sports jets made of rigid foam.

Now even better>/strong>
The features that already made the V1 version so successful have been retained. The V2 version now comes with 13g metal gear servos for even more precision and improved connectors. In addition, the Futura V2 has been given a new attractive color design which is based on the original Tomahawk design.

Powerful drive
The Futura V2 is powered by an optimized 3280-KV2100 brushless motor in combination with an efficient 80mm 12-blade impeller and a Hobbywing 100A flight controller.

Lightweight construction in PNP
The Jet model is made of extra strong and lightweight EPO40 rigid foam material. The complete electronics such as motor, impeller, controller, servos and the electric, spring-loaded retractable landing gear are already installed in the model. Battery in, receiver in, and the Futura V2 from FMS is ready - ready to put a big grin on your face.

Properties>/strong>
- Officially licensed by Tomahawk Aviation
- Construction of extra strong EPO40 rigid foam material
- low weight and yet high stiffness
- Reflex stabilization system with gyro (compatible with all receivers with at least 4 channels) included
- Brushless 3280-KV2100 motor and Hobbywing 100A regulator built in
- efficient 80mm 12-blade impeller installed
- built-in CNC milled retractable landing gear, completely made of metal
- large tires, suitable for use on rough terrain
- six 13g analog servos with metal gears installed
- hinged landing flaps for uncritical landing approaches
- oversized cabin compartment allows large batteries and easy maintenance
- newly designed locking mechanism for the canopy
- improved connectors for additional safety
- adhesive-free assembly, assembly with 10 screws
- new original Tomahawk color design
- environmentally friendly water-based paint

Reflex Stabilization System (included in this set)
This set comes with a reflex system specially programmed for this aircraft. This electronic stabilization system is designed to assist the pilot with control commands but not to interfere with them. The Reflex system works with both PPM and SBUS inputs and works natively with all common remote control systems. If the Reflex system is assigned to a 3-channel switch, 3 different modes can be selected:
- Stabilized mode: When the control stick is released, the model is automatically brought into a neutral flight position, which offers a lot of safety in tricky situations, especially for beginners and untrained pilots.
- Optimized Mode: The gyro system of the Reflex System counteracts external influences such as gusts of wind or crosswind and keeps the model precisely in a stable position.
- Off: The Reflex System can be completely switched off.
The Reflex System is specially adjusted for this model aircraft. No further programming is required, only the installation and connection in the model is still to be carried out. The Reflex System can be connected to all receivers with at least 4 channels.


Technical data
| | |
| --- | --- |
| Airfoil: | - |
| Ausführung: | PNP- PLUG N PLAY |
| Bauerfahrung: | Advanced |
| Control: | H,S,Q,M,EZFW,LK |
| Drive Type: | Electro |
| Empty weight approx. (g): | - |
| Flight Skill: | Professional |
| Flight weight approx. (g): | 2500 |
| Fuselage: | EPO |
| Länge (mm): | 1170 |
| Manufacturer: | FMS |
| Rec. Battery: | 6S LiPo 4000mAh 30C |
| Wing-span (mm): | 1060 |
| Wings: | EPO |
| empf.Motor: | beinhaltet |
Box contents
- Futura V2 PNP
- Reflex Stabilization System


Das Produkt Futura V2 Jet EDF 80 PNP - 106 cm - von FMS in der Kategorie Electric Jets hat eine Spannweite von 1060 sowie ein Gewicht von 2500. Die Steuerung des Modells erfolgt über die Funktionen H,S,Q,M,EZFW,LK. Das Modell ist als PNP- PLUG N PLAY ausgeführt . Wir empfehlen einen 6S LiPo 4000mAh 30C Akku für dieses Elektroflugmodell.
* Erklärung Steuerfunktionen:
H ... Höhenruder
S ... Seitenruder
Q ... Querruder
M ... Motorsteuerung
V ... Vektorsteuerung
LK ... Landeklappen
SK ... Störklappen
WK ... Wölbklappen
EZFW ... Einziehfahrwerk
SKU ... Schleppkupplung
( ) ... optional - in Klammer geschriebene Steuerfunktionen sind bei dem beschriebenen Modell optional verfügbar
FMS was founded in 2007 in Shenzen and offers beautiful scale foam warbird models. All models are Ready to Fly (requiring only a transmitter, receiver, and battery). They are already finished, sometimes with electric landing gear, and high performance servos, brushless motors, and brushless ESCs. They also offer gliders (sailplanes) and Jets.