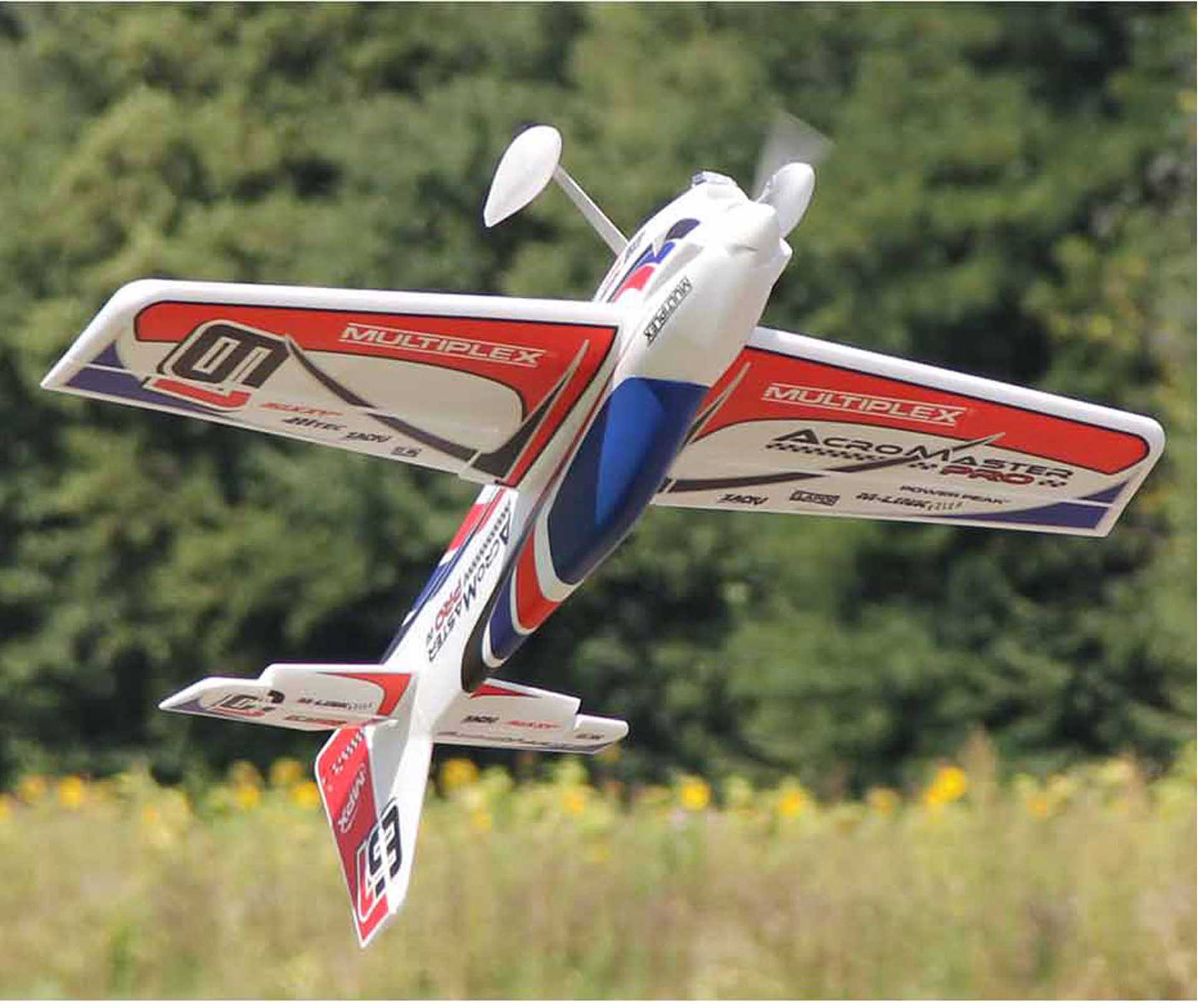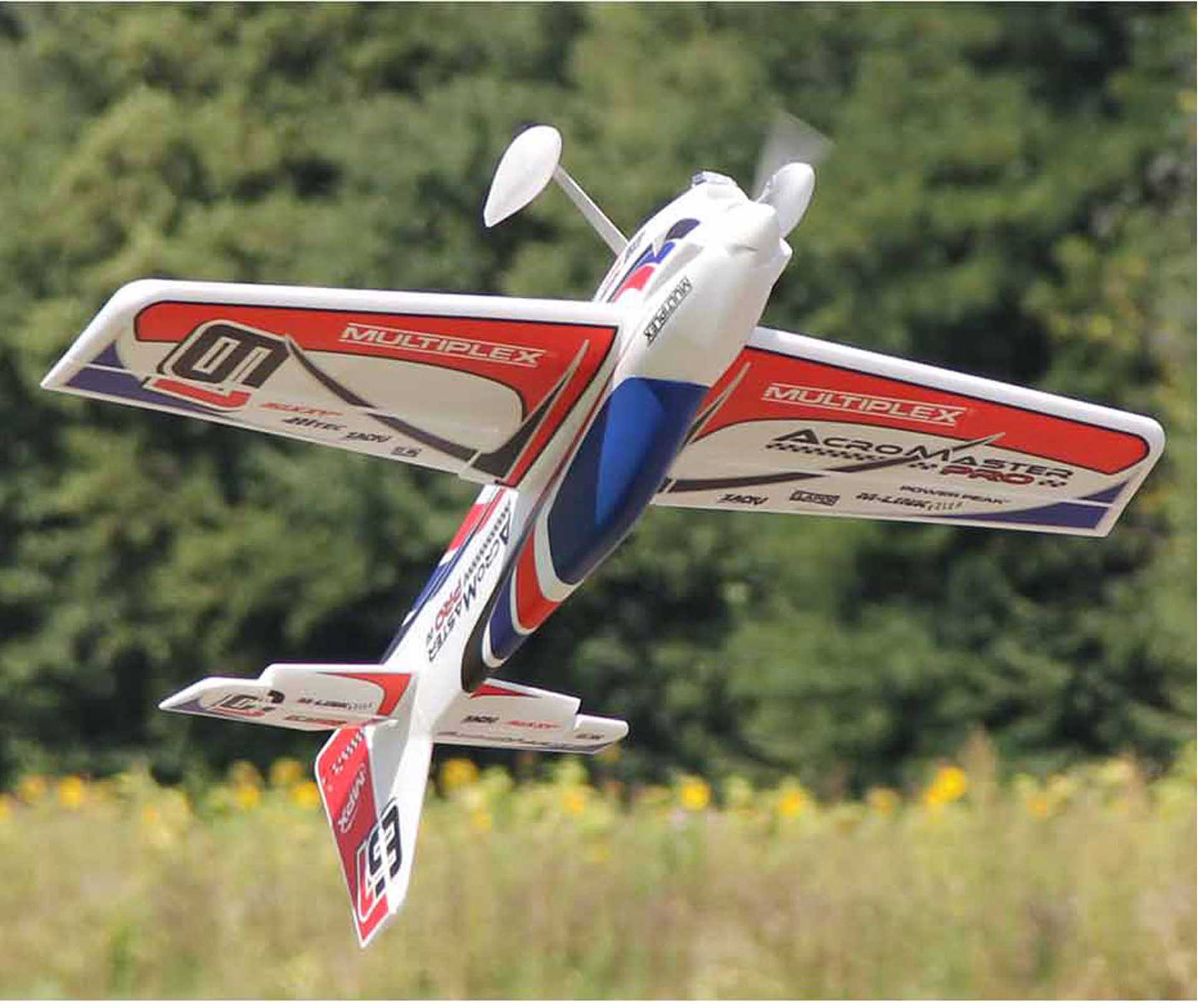 MULTIPLEX ACROMASTER PRO RR ALMOST READY BUILT WITH DRIVE, CONTROLLER AND SERVOS
Manufacturer number:
1-00846
€255.99*
%
€269.99*
(5.19% saved)
In stock. Usually ships within 1 business day.
Description
"MULTIPLEX ACROMASTER PRO RR ALMOST READY BUILT WITH DRIVE, CONTROLLER AND SERVOS"
The AcroMaster PRO is the consistent further development of our popular Acromaster. During development it was important to us to improve the model, but not to fundamentally change it. The appearance of the AcroMaster PRO´s is familiar at first glance, but still completely new and fresh.

The improvements at a glance:
- New engine mount and more stable force transfer into the fuselage
- New chassis made of anodized aluminum, new chassis mount, new wheel shoes with larger wheels
- New battery attachment with velcro loops
- New wing lock - Servos & Bowden cables now inboard
- Very powerful and efficient ROXXY motor and controller
- Hitec HS-82MG Servos for elevator and rudder (metal gears)
- Hitec HS-65HB Servos for the ailerons (carbonite gears)
- Canopy ready painted
- Wingstabi mounting surface integrated in the fuselage
- New stylish decal sheet (not included with the RR model)

With all these changes, the AcroMaster PRO is in better shape than ever before - and due to its good-natured flight characteristics and its versatility in aerobatics, it offers the ideal basis for relaxed flying and training of aerobatic figures. Like its predecessor, the AcroMaster PRO is designed as an all-rounder. This means that you can fly precise and classic aerobatics as well as 3D with it. The AcroMaster PRO is full throttle proof, even XA-figures (Xtreme-Aerobatic-figures) with run-up are no problem. The AcroMaster PRO is simply perfect for learning aerobatics and as a training machine for ambitious aerobatic pilots!



Technical data
| | |
| --- | --- |
| Airfoil: | - |
| Ausführung: | ARF - ALMOST READY TO FLY |
| Bauerfahrung: | Fortgeschritten |
| Control: | H,S,Q,M |
| Empty weight approx. (g): | - |
| Flight weight approx. (g): | 1350 |
| Flugerfahrung: | Fortgeschritten |
| Fuselage: | Elapor |
| Länge (mm): | - |
| Manufacturer: | Multiplex |
| Type of drive: | Electro |
| Wing-span (mm): | 1100 |
| Wings: | Elapor |
| empf.Akku: | 3S/2600mAh |
| empf.Motor: | BL Outrunner |
Box contents
- ELAPOR® model almost ready-built
- without decor
- including drive motor ROXXY C35-48-990kv
- Controller ROXXY BL-Control 755 S-BEC
- Propeller 12x6
- 2x servos HS-82MG
- 2x Servo HS-65HB
- instruction



Das Produkt ACROMASTER PRO RR FAST FERTIG GEBAUT MIT ANTR von MULTIPLEX in der Kategorie 3D & Aerobatic Airplanes hat eine Spannweite von 1100 sowie ein Gewicht von 1350. Die Steuerung des Modells erfolgt über die Funktionen H,S,Q,M*. Das Modell ist als ARF - ALMOST READY TO FLY ausgeführt . Wir empfehlen einen 3S/2600mAh Akku für dieses Elektroflugmodell.
* Erklärung Steuerfunktionen:
H ... Höhenruder
S ... Seitenruder
Q ... Querruder
M ... Motorsteuerung
V ... Vektorsteuerung
LK ... Landeklappen
SK ... Störklappen
WK ... Wölbklappen
EZFW ... Einziehfahrwerk
SKU ... Schleppkupplung
( ) ... optional - in Klammer geschriebene Steuerfunktionen sind bei dem beschriebenen Modell optional verfügbar
Since their founding in 1958, Multiplex has developed top RC Radio Systems for the RC Industry! With the current 2,4 GHz Technology M-LINK and telemetry system, Multiplex has put itself in front of the RC Industry in Germany. Since the early 2000s Multiplex began producing finished models made from Elapor, a high-tech particle foam, which setted a milestone im the RC Airplane, as well as in the Helicopter (Funcopter) sectors. Since 2002, Multiplex has been owned by the south korean HiTEC group and has become one of the leading RC manufacturers in the world!