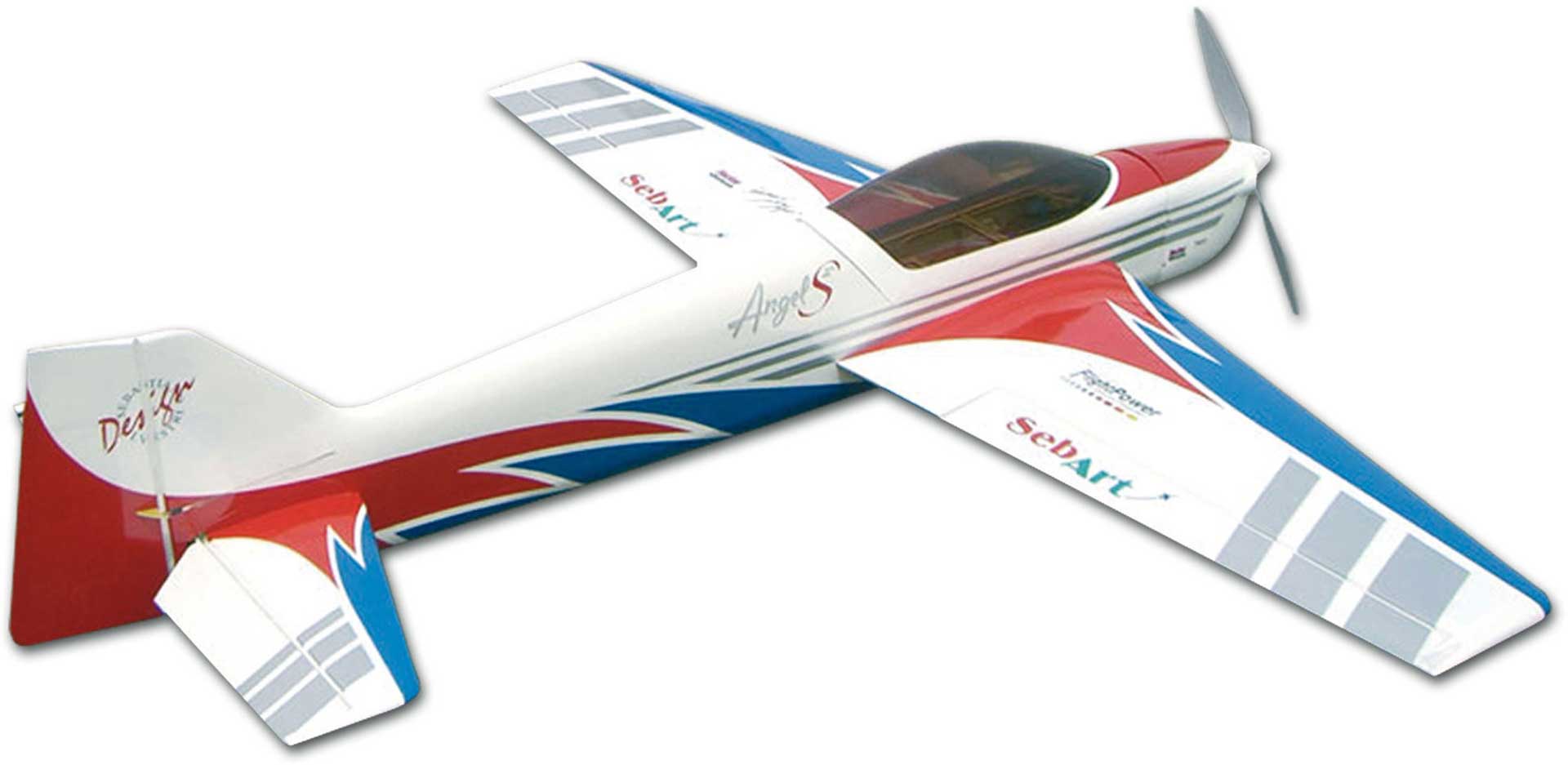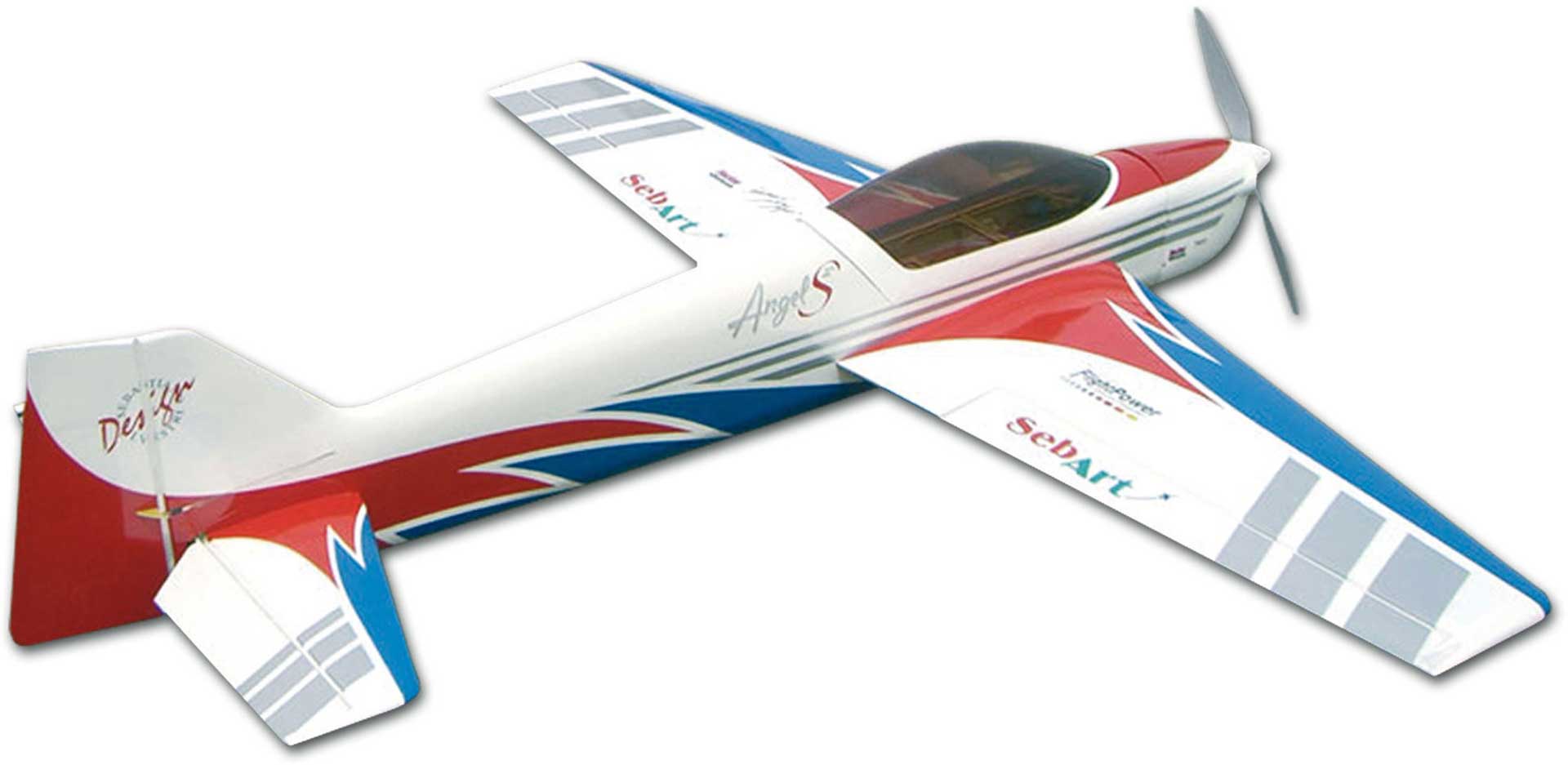 SEBART ANGEL S EVO 50E ARF BLUE
Manufacturer number:
A50-WB
Only a few left in stock, ready for shipment within 1 working day. Delivery time 1-3 working days.
Downloads
Description
"SEBART ANGEL S EVO 50E ARF BLUE"
"Angel EVO" ist die kleinere Version von Sebastiano Silvestri´s 2m-F3A Modell aus der Saison 2006. Mit einem kräftigen Antrieb (z.B. Hacker A50-16S) und einem 6S Lipo Pack ist kraftvoller Kunstflug ein Genuß und die Grenzen sind nur mehr dem Piloten nicht aber dem Modell gesetzt.

SEBART models from the hand of multiple champion Sebastiano Silvestri! The models are ultimate precision aircraft with incredible flight performance. Almost all models are mostly made in mixed wood construction with many GRP parts and extensive accessories. Some models are made of robust EPO/EPP or polystyrene (mainly E-Impeller jet models). The building instructions are sufficiently illustrated and in English language. The construction expenditure is kept as low as possible and is limited to remaining assembly and installation of the equipment parts. Step into the world of the great art flight pilot Sebastiano Silvestri with Sebart models!

Used servos:
6 pcs. HS-5087MH for ailerons, elevators and flaps
1 pc. HS-5070MH for Rudder
(not included in delivery)
Magnetic removable nose cone with plastic cap for long durability



Technical data
| | |
| --- | --- |
| Airfoil: | - |
| Building Skill: | Beginners |
| Control: | H,S,Q,M |
| Drive Type: | Electro |
| Empty weight approx. (g): | - |
| Flight Skill: | Advanced |
| Flight weight approx. (g): | 2300 |
| Fuselage: | Wood |
| Length (mm): | - |
| Manufacturer: | Sebart |
| Rec. Battery: | 6S/3300-3700 mAh LiXX |
| Version: | ARF - ALMOST READY TO FLY |
| Wing-span (mm): | 1580 |
| Wings: | Wood/rib construction |
| blau: | 68591 |
| recommend Motor: | A50-16S |
| yellow: | 79061 |
Das Produkt ANGEL S EVO 50E ARF BLAU von SEBART in der Kategorie 3D & Aerobatic Airplanes hat eine Spannweite von 1580 sowie ein Gewicht von 2300. Die Steuerung des Modells erfolgt über die Funktionen H,S,Q,M*. Das Modell ist als ARF - ALMOST READY TO FLY ausgeführt . Wir empfehlen einen 6S/3300-3700 mAh LiXX Akku für dieses Elektroflugmodell.
* Erklärung Steuerfunktionen:
H ... Höhenruder
S ... Seitenruder
Q ... Querruder
M ... Motorsteuerung
V ... Vektorsteuerung
LK ... Landeklappen
SK ... Störklappen
WK ... Wölbklappen
EZFW ... Einziehfahrwerk
SKU ... Schleppkupplung
( ) ... optional - in Klammer geschriebene Steuerfunktionen sind bei dem beschriebenen Modell optional verfügbar
SEBART models, designed by the several-time champion Sebastiano Silvestri! The models are precision aircrafts with an unbelievable flying performance. Most are made of mixed wood with a lot of GFK-components and extensive accessoires. The operating instructions are illustrated, in english and the construction effort is very low. You just have to do a rest assembly and put in the equipment. Enter the world of the aerobatics pilot Sebastiano Silvestri with SEBART models.