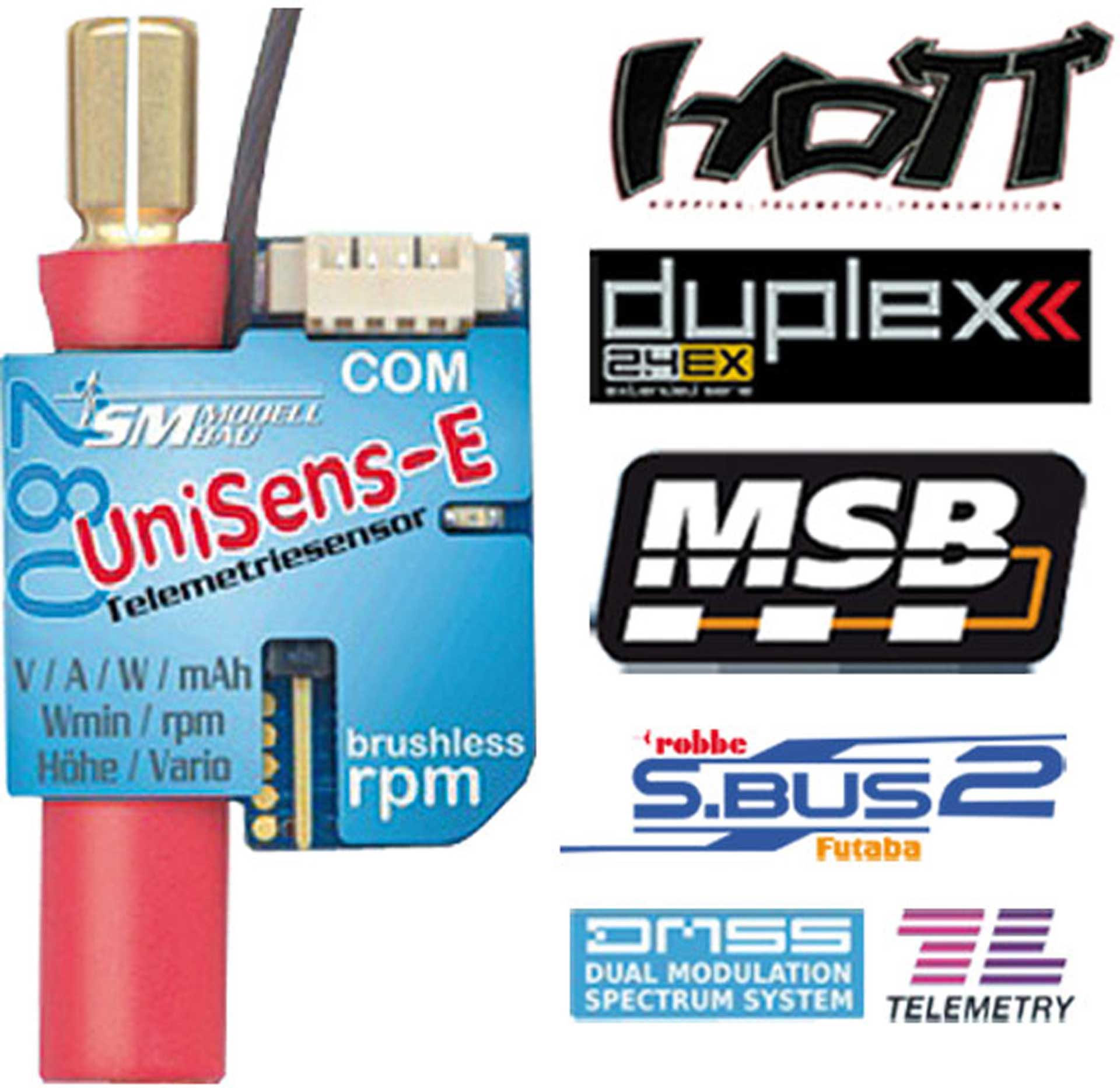 SM-Modellbau UNISENS-E -280A WITH 6MM LMT GOLD CONTACT RC TELEMETRY SENSOR
Manufacturer number:
3114
Description
"SM-Modellbau UNISENS-E -280A WITH 6MM LMT GOLD CONTACT RC TELEMETRY SENSOR"
The UniSens-E is a pure telemetry sensor especially for all electric models. It is so small and light, but at the same time so powerful that it can be used in almost any model.
In accordance with our philosophy to support as many systems as possible, the UniSens-E also speaks the language of Jeti Duplex (EX), Multiplex M-Link and Graupner HoTT, Robbe/Futaba FASSTest), JR DMSS) and . The telemetry used in the UniSens-E only has to be specified once in the settings. This is done either via our PC program UniSens-E Tool? or with the UniDisplay. HoTT GAM is selected at delivery.
To change the settings via PC or for firmware updates, a suitable USB interface such as our order no. 2550 or an already existing USB connection cable such as that of Jeti, Multiplex or Graupner is required. See also the instructions.
Without additional sensors, the UniSens-E can measure the complete drive, i. e. voltage, current, capacity and even speed. As a special highlight, a brushless speed sensor is already built in. For the measurement of the speed, only a small cable connection to one of the three motor phases must be made with the enclosed cable.
Since a barometric (air pressure) height sensor with high resolution is also integrated, a vario with the UniSens-E is implemented in addition to height measurement.
Extensive alarms can also be programmed, which are signalled via telemetry via the respective transmitter.
The UniSens-E is available with different connector systems, so that normally nothing has to be soldered. The current measuring range extends symmetrically in both directions. The pin assignment, i. e. whether the battery has male or female contacts at the positive pole, is irrelevant. The measuring direction is simply set in the setup.
Via our UniDisplay all UniSens-E measured values can also be viewed live and all settings and alarms can be programmed.
Whether glider, aerobatic aircraft, helicopter, HLG or slowflyer, the UniSens-E can be used in almost any area due to its low weight and compact size. Of course, the UniSens-E is not only suitable for flight models. It can also be installed in RC boats, RC cars, etc.
With the UniSens-E you acquire a universal RC telemetry sensor that is powerful in all respects and uses the possibilities of modern electronics to be a great help in dealing with your RC models.



Technical data
| | |
| --- | --- |
| Altitude measurement range: | 0 bis 8000 m NN |
| Current measurement range: | 280 A in beide Richtungen |
| Dimensions: | 26(42)/22/14 mm |
| Gewicht: | 17 g - 30 g ohne Kabel |
| Load duration: | Dauer: 200 A / 20s: 280 A |
| Voltage measurement range: | 0 bis 60 V |
Box contents
UniSens-E with integrated height sensor / Vario
Connecting cable receiver for telemetry power supply
Connection cable for Brushless speed measurement
detailed operating instructions