Modellbau Lindinger, 1.3.2022
Letztes Update vor 5 h
REVIEW - Mit allen Wassern Gewaschen!
RocHobby NEUHEIT bei Modellbau Lindinger!
Typ 82 Kübelwagen von RocHobby
Wie hat das Projekt angefangen? - Das Original
In den 1930er Jahren errichtete Deutschland die KdF-Motorstadt in Wolfsburg und meldete die Gesellschaft zur Vorbereitung der Deutschen Volkswagens mbH an, aus der sich später der weltbekannte Stammsitz von VW entwickelte. Dort wurde der nationale KdF-Wagen produziert. Der KdF-Wagen, der als Volksauto bezeichnet wurde, wurde nicht an das Volk verkauft, sondern alle Fahrzeuge wurden beschlagnahmt und in Militärfahrzeuge umgewandelt, von denen der Kubelwagen das berühmteste ist. Der Kübelwagen ist ein leichter militärischer Geländewagen mit offenem Verdeck. Er wurde im Januar 1938 entwickelt und zeichnete sich durch eine niedrige Karosserie und geringes Gewicht aus, der leicht in großen Stückzahlen hergestellt werden konnte und dabei kostengünstig war.
Das Modell
Der FMS Kübelwagen im Maßstab 1:12 entführt Sie mit seinem spektakulären Design in die kriegsgebeutelte Ära.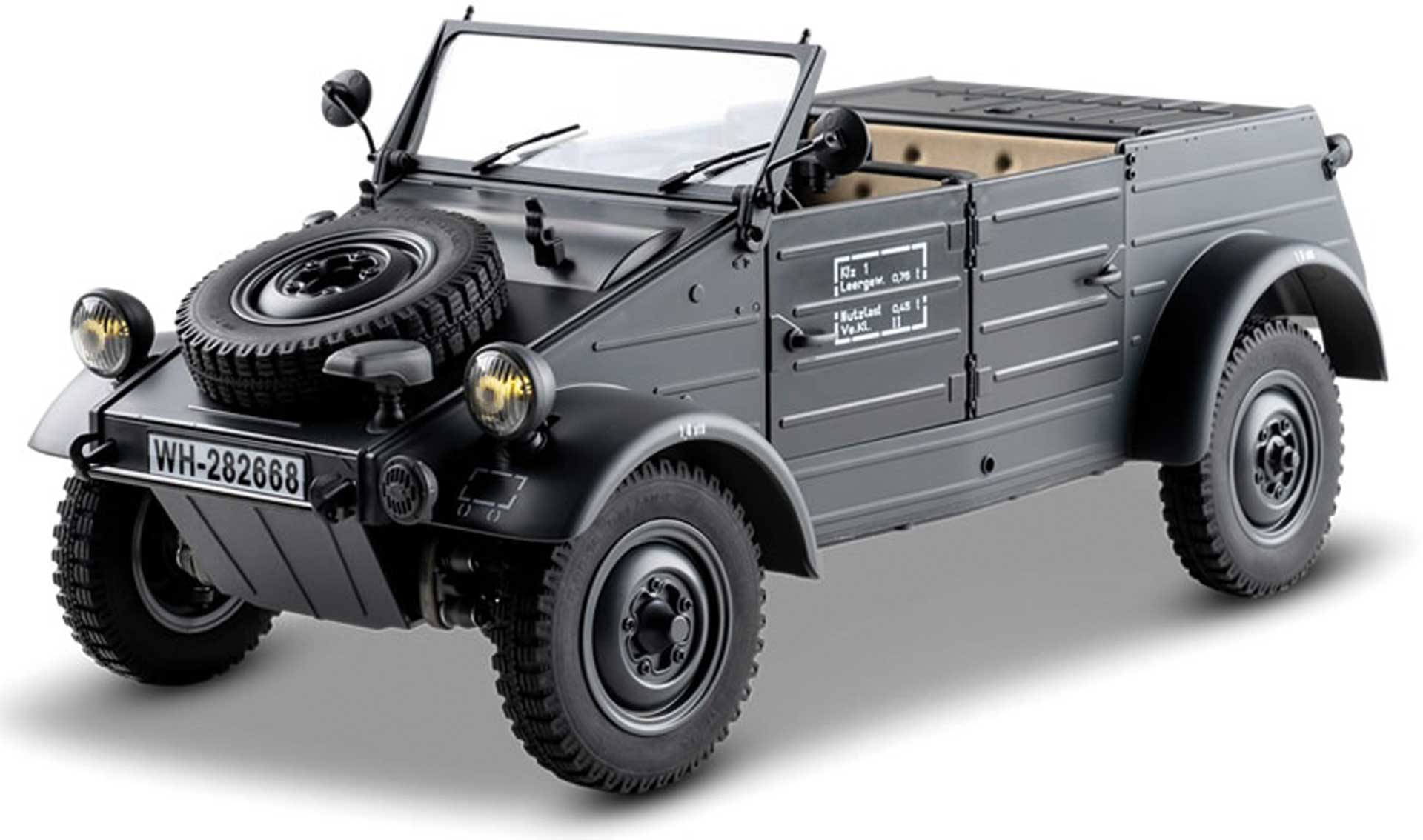 ROC HOBBY Kübelwagen Type82 1:12 - Scaler RTR 2.4Ghz
Manufacturer no.:
DPROC11241RTR
The FMS 1/12 Kubelwagen RC Model presents itself in Mid-term to take you back to the war-torn era with its spectacular design.The Boxer air-cooled horizontally opposed four-cylinder engine serves as the core of the car. The cylinders of the horizontally opposed engine are distributed on both sides, a 130 motor in the right cylinder position, and another 130 motor reserved for the left side, which can output twice as much power when applied to the VW T1 or Porsche 356 platform.The engine crankshaft flywheel is connected by a belt to drive the generator and the cooling fan as well. The semi-circular fan fairing is a major feature, in which the airflow is distributed to the cylinders on both sides. All is restored on the model, meaning you can observe the blades rotating through the fan intake when the motor is running.The Kübelwagen,has 4 forward gears,their maximum speed respectively goes as 1st gear 18.4km/h; 2nd gear 32.4km/h; 3rd gear 54.2km/h; 4th gear 83.6km/h. The corresponding red line of gearshift tips is available on the dashboard. On the model, a 2-speed shift is designed to simulate the speed of the 1st and 3rd gears of the real car. The power crosses over from the top of the rear axle differential and then returns to the rear axle. The model share the same structure as the real engine, with the benefit of compactness, making it easy to switch between 4WD and RWD modes. This shift function is perfectly reproduced on the model to provide more driving pleasure when driving off-road.The popular door axle in today's climbing car market has been in mass production for barrel car as early as 82 years ago, from which barrel car chassis learned and made minimum ground clearance 310mm, dwarfing all modern off-road cars on the market today.The car body, on which R & D team spend the most time where you can see the Bosch horn and headlights, Notek camouflage lights. The tires are the most common 5.25×16 in the barrel car. Like the real car, the simulated wheels need to be fixed with 5 screws, the spare tire on the front available for being taken off and installed for use. The rearview mirror is real rather than sticker and its angle is adjustable also.With 1/12 figures, a plot can be vividly displayed and users can gradually refine the plot with the increase of this series.The armrest in front of the rear seats has four clips in the middle that fit into holes in the floor to hold four 98K rifles.For the electronic system, 4-channel digital proportional remote control system is applied. In addition to 1&2 channels for steering and throttle control, the 3rd channel controls the gearshift and the 4th channel switching between 4WD and RWD. There is also integrated light control, which allows you to turn on the headlights during normal night driving.Features:Four-wheel independent suspensionRear portal axles Front and rear axle planetary gear differentialsPerfect restoration of Air-cooled horizontally opposed four-cylinder engine130 motor in the cylinderCooling fan driven by beltThe third channel for the two-speed transmission controls The fourth channel for switch between 4WD-RWD ModeRetractable Windscreen Servo Operated Synchronized Steering Wheel and Front WheelsAngle-adjustable real rearview mirrorFour openable doors and mechanical locks includedSoft fabric seats & retractable rear seatsSpacious Luggage compartment space &Openable hatchOpenable Engine hatch Excellent light functionRealistic 5.25-16 tires, wheels and spare tireFront and rear metal bumpersPerfect for 1/12 figures30 stainless steel ball bearingsFull metal gearsFull metal drive shaftWorld War II German gray scheme Exquisite pad-printed body logo Four-channel 2.4Ghz digital proportional remote control systemReceiver electronic governor two in one9G servo x 3pcs DPROC11241RTR
Merkmale
• Scale RC Modell im Maßstab 1:12
• Eingebauter Bürstenmotor mit hohem Drehmoment
• Spritzgegossene lackierte Karosserie mit Tampondruck
• Vier-Rad-Einzelradaufhängung
• Planetengetriebedifferentiale an Vorder- und Hinterachse
• hintere Portalachsen
• realistische 5.25-16 Reifen und Ersatzrad
• perfekte Nachbildung des luftgekühlten Vierzylinder-Boxer-Motors
• Kühlgebläse mit Riemenantrieb
• aufklappbare Motorhaube
• aufklappbare Hecklappe mit geräumigem Gepäckraum
• servobetriebenes synchronisiertes Lenkrad
• versenkbare Windschutzscheibe
• winkeleinstellbarer echter Rückspiegel
• vier zu öffnende Türen mit mechanische Schlössern
• weiche Stoffsitze & versenkbare Rücksitze
• perfekt für 1:12 Figuren
• multifunktionale Beleuchtung integriert
• vordere und hintere Metallstoßstangen
• 30 Kugellager aus rostfreiem Stahl
• Vollmetall-Getriebe
• Antriebswelle aus Vollmetall
• inklusive digitales proportionales Fernsteuersystem mit 4 Kanälen
• der 3. Kanal für die Steuerung des Zweiganggetriebes
• der 4. Kanal für die Umschaltung zwischen 4WD-RWD Modus
• inklusive 7,4v 2S 380mAh Lipo-Akku für bis zu 20 Minuten Fahrzeit
• inklusive USB-Ladegerät für den Akku
Das Interieur
Die bequemen Sitze haben weiche Schaumstoffpolster, die für 1939er Verhältnisse sogar ein wenig luxuriös sind ;) Das Armaturenbrett zeigt die Geschwindigkeit und den Zeitpunkt der Gangwechsel mit dem aktuellen Kilometerstand 203 km - das entspricht in etwa der Strecke, die vom Werk Wolfsburg nach Berlin gefahren wurde. Kein Zweifel, wir verkaufen einen Neuwagen.
Wie bei FMS üblich, sind das Lenkrad und die Lenkung miteinander verbunden, wodurch sich das Lenkrad während der Steuerung mitdreht. Mit optional erhältlichen 1/12-Figuren kann der Scale Faktor noch weiter erhöht werden.



Der Motor

Das Modell ist zwar mit einem Bürstenmotor betrieben, nichtsdestotrotz ist all das nachgestellt! D. h. man kann sogar die sich drehenden Flügel beobachten, wenn der Motor läuft.

Die Elektronik

FMS hat große Anstrengungen unternommen um die Anordnung der Elektronik zu optimieren, damit die Batterie oder der Empfänger keinen Platz im Kofferraum brauchen.
Das Fahrwerk
Die heute auf dem Crawler-Markt beliebte Portalachse wurde bereits vor 82 Jahren in Großserie produziert, hier war das Untersetzungsverhältnis 15:21. Das Fahrgestell des Kübelwagens hatte eine Mindestbodenfreiheit von 310 mm was alle modernen Geländewagen auf dem heutigen Markt in den Schatten stellt. Beim echten Auto werden die Vorder- und Hinterradgeschwindigkeiten ausgeglichen, indem das Übersetzungsverhältnis des Vorderachsdifferenzials erhöht wurde, während wir beim Modell das Untersetzungsverhältnis auf 1:1 für gemeinsame Vorder- und Hinterachsdifferentiale eingestellt haben.
Das solide, tragende Chassis mit gestanztem Mittelstegrohr-Chassis und die Karosserie weisen einen hohe Torsionssteifigkeit auf. Die zentrale Antriebswelle und die elektrische Verkabelung sind im Firstrohr versteckt.
Die Vorder- und Hinterräder sind mit Torsionsfeder-Einzelradaufhängung versehen, die einen langen Federweg haben und wenig Platz brauchen. Wir verwenden Torsionsfedern anstelle von Drehstabfedern, um die vordere und hintere Aufhängung leicht demontieren zu können.
Technische Daten
• Länge: 317 mm
• Breite: 135 mm
• Höhe: 129 mm
• Radstand: 202 mm
• Bodenfreiheit: 30 mm
• Reifen: Ø 58 mm
• Maßstab: 1:12
• Antrieb: 4WD
• Motor: Brushed 130
• Servos: 3x 9g Digital
• Sender und Empfänger/Regler-Einheit: 2,4GHz
• Geschwindigkeit: max. 8km/h
• Fahrzeit pro Akku: ca. 20 Minuten


Die Karosserie
Die Karosserie, auf die das Forschungs- und Entwicklungsteam von FMS die meiste Zeit verwendet hat, ist ein echter Traum für jeden Scale Fan. Jedes Detail wurde dem Original nachempfunden.
Die Windschutzscheibe kann heruntergeklappt und an der vorderen Halterung befestigt werden.
Auch der Winkel des Rückspiegels ist wie bei einem echten Auto einstellbar. Die zu öffnenden vier Türen sind zwar erwähnenswert, aber es ist noch viel interessanter, dass die Türen durch Drehen des Türgriffs geöffnet und verriegelt werden können.
Die Reifen

Die Reifen sind die am häufigsten verbauten 5.25×16. Wie beim echten Auto müssen die Räder mit 5 Schrauben befestigt werden. Das Reserverad ist an der Vorderseite zum Abnehmen und Montieren angebracht.

Das Beleuchtungs-System
Das Modell verfügt über eine fertig integrierte Lichtsteuerung, mit der Sie die Scheinwerfer bei normalen Nachtfahrten einschalten können. Verknüpfte Blinker und Bremslichter befinden sich am Heck des Fahrzeugs. Die Tarnscheinwerfer können nur während der Nachtfahrt eingeschaltet werden.
Das Getriebe
Der originale Kübelwagen hatte 4 Vorwärtsgänge. Am Modell hat FMS eine 2-Gang-Schaltung entworfen, um die Geschwindigkeit des 1. und 3. Gangs des Vorbilds zu simulieren. Die Kraft geht vom oberen Teil des Hinterachsdifferentials über und kehrt dann zur Hinterachse zurück. Man kann per Fernsteuerung leicht zwischen 4WD- und RWD-Modus wechseln. Diese Schaltfunktion ist perfekt auf das Modell übertragen und sorgt für mehr Fahrspaß im Gelände.
Zusammenfassung / Fazit:
FMS / RocHobby hat hier erneut einen neuen Maßstab im RTR Sektor gesetzt. All diese Funktionen machen dieses historische Fahrzeug zu einem hochwertigen Scale Modell.
Der Kübelwagen wird sich bestimmt in Zukunft wieder in somanchen Gärten, Crawlerstrecken, Vitrinen und bei vielen Veranstaltungen sehen lassen.
Prädikat, sehr empfehlenswert durch ultra realistischen Scale Faktor!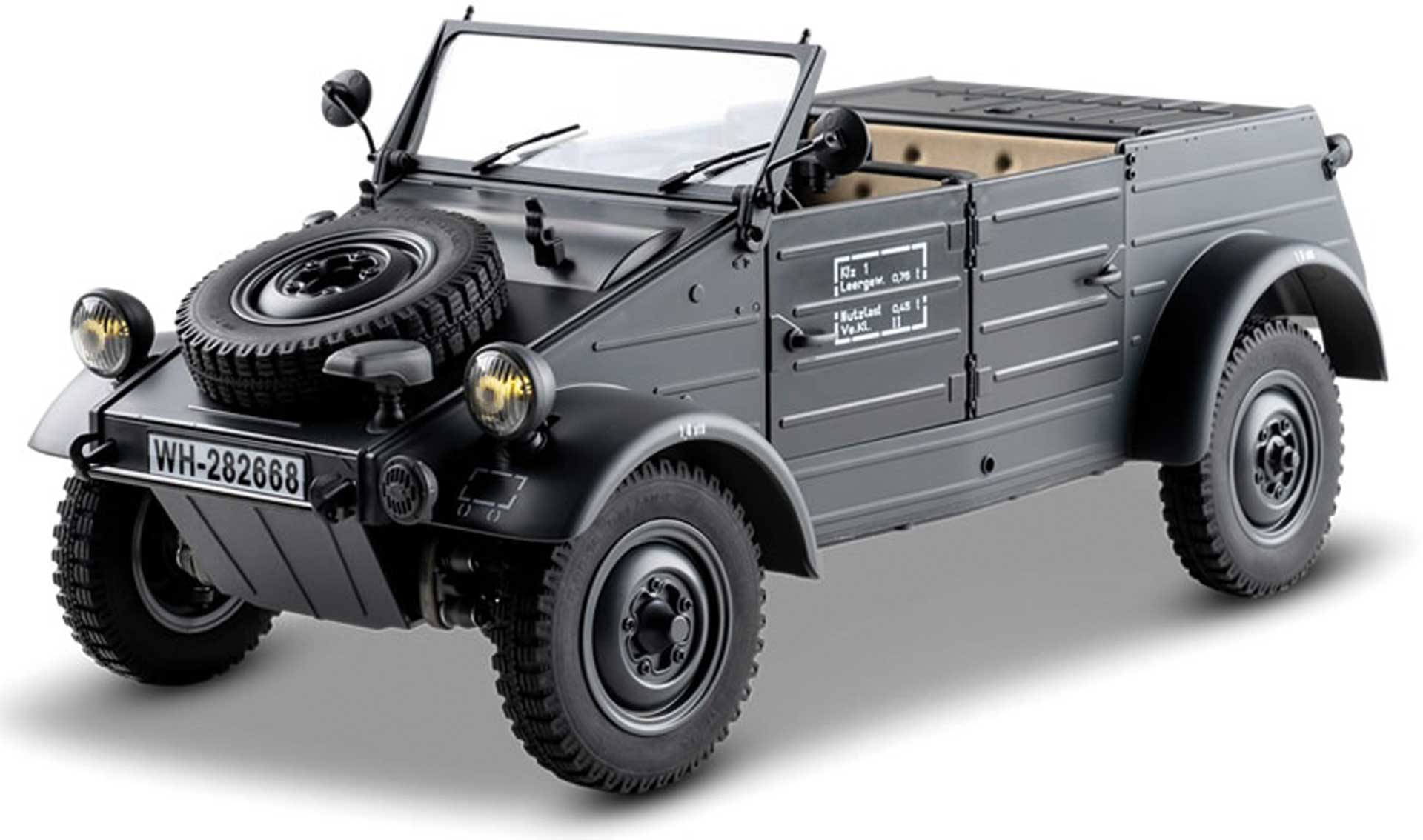 ROC HOBBY Kübelwagen Type82 1:12 - Scaler RTR 2.4Ghz
Manufacturer no.:
DPROC11241RTR
The FMS 1/12 Kubelwagen RC Model presents itself in Mid-term to take you back to the war-torn era with its spectacular design.The Boxer air-cooled horizontally opposed four-cylinder engine serves as the core of the car. The cylinders of the horizontally opposed engine are distributed on both sides, a 130 motor in the right cylinder position, and another 130 motor reserved for the left side, which can output twice as much power when applied to the VW T1 or Porsche 356 platform.The engine crankshaft flywheel is connected by a belt to drive the generator and the cooling fan as well. The semi-circular fan fairing is a major feature, in which the airflow is distributed to the cylinders on both sides. All is restored on the model, meaning you can observe the blades rotating through the fan intake when the motor is running.The Kübelwagen,has 4 forward gears,their maximum speed respectively goes as 1st gear 18.4km/h; 2nd gear 32.4km/h; 3rd gear 54.2km/h; 4th gear 83.6km/h. The corresponding red line of gearshift tips is available on the dashboard. On the model, a 2-speed shift is designed to simulate the speed of the 1st and 3rd gears of the real car. The power crosses over from the top of the rear axle differential and then returns to the rear axle. The model share the same structure as the real engine, with the benefit of compactness, making it easy to switch between 4WD and RWD modes. This shift function is perfectly reproduced on the model to provide more driving pleasure when driving off-road.The popular door axle in today's climbing car market has been in mass production for barrel car as early as 82 years ago, from which barrel car chassis learned and made minimum ground clearance 310mm, dwarfing all modern off-road cars on the market today.The car body, on which R & D team spend the most time where you can see the Bosch horn and headlights, Notek camouflage lights. The tires are the most common 5.25×16 in the barrel car. Like the real car, the simulated wheels need to be fixed with 5 screws, the spare tire on the front available for being taken off and installed for use. The rearview mirror is real rather than sticker and its angle is adjustable also.With 1/12 figures, a plot can be vividly displayed and users can gradually refine the plot with the increase of this series.The armrest in front of the rear seats has four clips in the middle that fit into holes in the floor to hold four 98K rifles.For the electronic system, 4-channel digital proportional remote control system is applied. In addition to 1&2 channels for steering and throttle control, the 3rd channel controls the gearshift and the 4th channel switching between 4WD and RWD. There is also integrated light control, which allows you to turn on the headlights during normal night driving.Features:Four-wheel independent suspensionRear portal axles Front and rear axle planetary gear differentialsPerfect restoration of Air-cooled horizontally opposed four-cylinder engine130 motor in the cylinderCooling fan driven by beltThe third channel for the two-speed transmission controls The fourth channel for switch between 4WD-RWD ModeRetractable Windscreen Servo Operated Synchronized Steering Wheel and Front WheelsAngle-adjustable real rearview mirrorFour openable doors and mechanical locks includedSoft fabric seats & retractable rear seatsSpacious Luggage compartment space &Openable hatchOpenable Engine hatch Excellent light functionRealistic 5.25-16 tires, wheels and spare tireFront and rear metal bumpersPerfect for 1/12 figures30 stainless steel ball bearingsFull metal gearsFull metal drive shaftWorld War II German gray scheme Exquisite pad-printed body logo Four-channel 2.4Ghz digital proportional remote control systemReceiver electronic governor two in one9G servo x 3pcs DPROC11241RTR
FMS 1941 Willys MB Scaler 1:12 - Crawler RTR 2.4GHz
Manufacturer no.:
DPFMS11201RTR
" It did everything, went anywhere, was as faithful as a dog, as strong as a mule, and as agile as a goat. It consistently carried twice what it was designed for, and still kept going."— Ernie Pyle, Pulitzer Prize-winning War CorrespondentWhen the MB Scaler was first put into service during the 1940s it wasn't the only light off-road vehicle on the battlefield. It wasn't the most ground-breaking design and didn't feature state-of-the-art technology. However it would start a revolution - designed to tackle the most extreme type of terrain, it became a reliable and versatile workhorse honored by soldiers around the World for year to come.To recreate and capture that original love for the MB Scaler, Rochobby has gone through a repeated testing and upgrading process to present you with this one-of-its-kind model: 1:12Model.No less than its larger sibling: 1:6 1941 MB Scaler we created one year ago — it features a realistic moulded hard body finished with a delicate pad printing technique including real rear-view mirrors, a detailed dashboard, rubber tires and removable accessories such as a fuel tank, axe, shovel, hood, windshield and a top bow assembly.However the 1:12 1941 MB Scaler features even more. More Details — such as lifelike canvas seats, a fold-down rear seat with openable bins and tires with stunning scale tread patterns. More Realistic — the MB Scaler chassis features a solid ladder frame rail that mirrors its full-size counterpart, multi-leaf springs with dampers as well as offset differentials, making this vehicle exquisitely equal to the legendary historical Willys. More Versatile — the MB Scaler features a fantastic LED system (four turn lights, two headlights and a blackout lamp) that helps explore the dark of night. Besides the scale finishing and detail its 2.4GHz ANT transmitter provides modelers from rookies to experts with the opportunity to enjoy exciting trails with a Two-speed transmission option (Crawling Mode and Beginner Mode), as well as alerting the user with a Low-Battery Warning, Forgotten Alarm, Motor Overload Protection, and more!Sometimes, Smaller really is Better. The Legend lives on – 1941 MB Scaler!Features:Authentic full-time 4WD includes a radio transmitter & receiver and a battery.Delicate army green body finished with fine pad-printing design Realistic scale detailing including canvas seats, rear-view mirrors, dashboards, leaf springs & dampers, tires and metal ladder frame rails. Additional movable scale features and accessories like rear seat, axe, shovel, two bins, windshield, rotating steering wheel and fuel tankThe perfect match for 1/12 figures?Up to seven LED lights are included for nighttime driving.Optional parts (canvas top, machine gun, and trailer) provide further scale finishing. DPFMS11201RTR
ROC HOBBY 1941 MB Scaler 1:6 4WD Crawler RTR 2,4GHz, mit Beleuchtung
Manufacturer no.:
DPROC001RS
ROCHOBBY is proud to announce its latest creation, the 1/6 MB Scaler.2 years in the making, the MB Scaler is the result of dedicated research through countless historical photos and documentation. Dedicated to the soldiers who served with this legendary vehicle, the ROCHOBBY MB Scaler was designed to be the most accurate radio controlled MB on the market today. Scale enthusiasts will appreciate the detailed pre-painted and pre-assembled body, featuring functional lights, servo driven steering wheel and a fold-away windshield. Small features such as the fabric straps that hold the painted axe and shovel add to the realistic look and feel of the vehicle. The cabin replicates the real vehicle with micro-print instruction labels, gear levers and seating that fits 1/6th scale soldiers. Performance was not overlooked when creating the MB Scaler: a modern crawler chassis was chosen to retain the body-on-frame and solid axle design of the full scale MB. Oil filled shocks replace leaf springs to allow for axle articulation. Narrow wheels feature specially formulated high-grip tires with period-correct tread to provide maximum traction while retaining the scale look of the MB.Don't miss your chance to own one of the most iconic vehicles of the second world war!BodyRealistic injection-molded bodyBody-on-frame designServo-driven steering wheelFunctional front and rear lightsFold-away front windshield Injection-molded engine with functional hoodFunctional spare wheelFits most 1/6th scale figuresOptional canvas topPrepainted shovel and axeChassisAll-terrain 324mm wheelbase crawler chassis True ladder-frame chassis designGrippy tires for true, all-terrain performanceBeadlock wheelsOversized battery compartmentPlanetary gear reduction setOil filled shocksElectronics550 sized 35T motor provides fantastic torque Fully waterproof receiver and Hobbywing 1060 brushed ESC2.4GHz fully proportional compact radio systemDual channel EPA and reverse functions with digital trim DPROC001RS