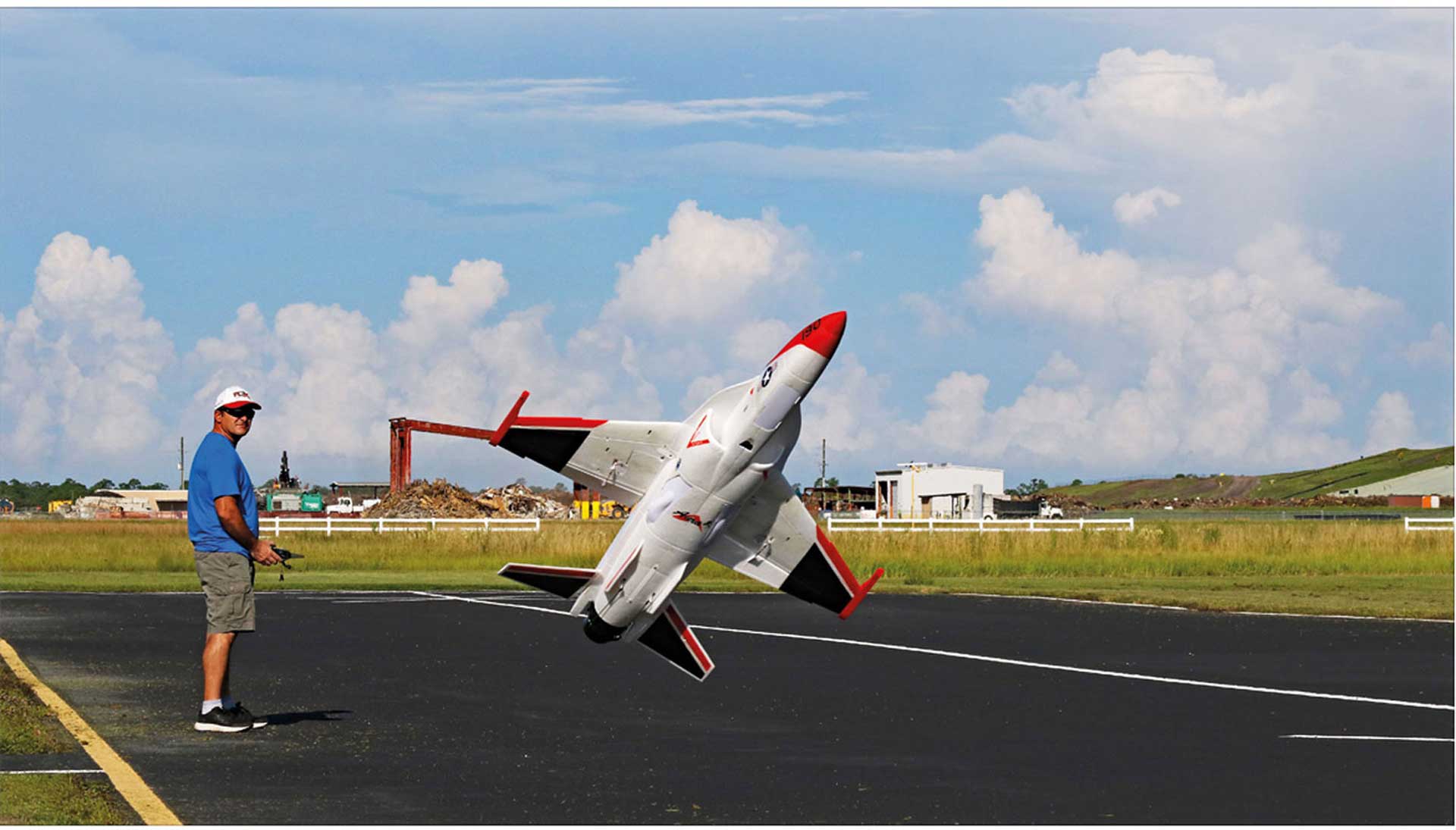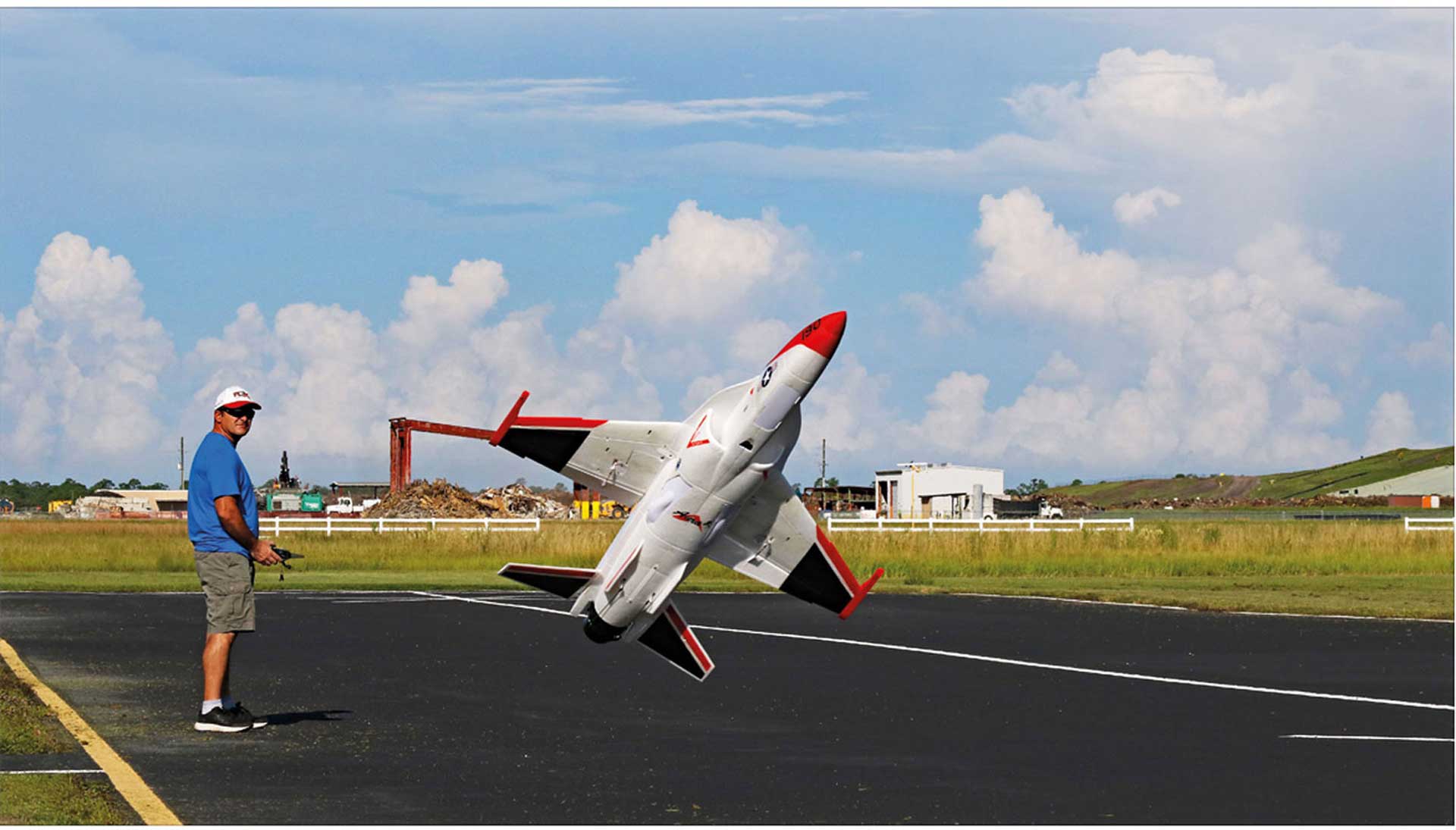 PREMIER AIRCRAFT FLEXJET THRUST VECTOR 90MM EDF IMPELLER JET SUPER PNP WITH AURA 8
Manufacturer number:
FPM3440A
€649.99*
%
€699.99*
(7.14% saved)
Only a few left in stock, ready for shipment within 1 working day. Delivery time 1-3 working days.
Downloads
Description
"PREMIER AIRCRAFT FLEXJET THRUST VECTOR 90MM EDF IMPELLER JET SUPER PNP WITH AURA 8"
The Next Evolution in EDF Performance
The FlexJet is known as one of the most capable and highest performing EDFs in its class. Building on that legendary performance, the FlexJet TV adds the next step in ultimate capability - Thrust Vectoring. With a new power system and a 2-axis thrust vectoring nozzle, the FlexJet TV is now capable of some of the most advanced aerobatics imaginable.
The FlexJet TV is designed by the Flex Innovations team including Top Gun Champion and internationally known jet designer David Ribbe with aerodynamic collaboration from F3A World Champion Quique Somenzini. The construction is EPO foam with multiple carbon spars and joiner tubes in the wings and tail surfaces. Plywood is also used where required.
The inlet lips, ducting and vectoring nozzle are expertly engineered to provide efficient thrust over a wide speed range, including 3D (post-stall) aerobatics. The thrust and acceleration are impressive with well over a 1:1 thrust to weight ratio. The plastic tailpipe is lightweight and offers smooth airflow while allowing access to internal components. Fuselage mounted main landing gear is set near the CG for easy ground handling and take-off rotation. The Super PNP includes both long travel trailing-link struts for those who fly on rough surfaces as well as lighter weight wire struts for those who want the lightest weight and best performance possible. Timing of the retracts and doors is automatically sequenced. The generous side area, a mid-set wing, and a large rudder make knife edge flight a breeze. With the addition of thrust vectoring, knife edge loops are now also possible. All-moving " flying stabs" give excellent pitch at all speeds, and even act as ailerons in all pre-programmed flight modes.
The Aura 8 advanced flight control system offers a highly refined 3-axis gyro to make the FlexJet TV fly like it is bigger and flying in less wind! Due to its advanced implementation, it will feel like there is nothing in the way of the pilot! The Aura also allows the FlexJet TV to be delivered with advanced expertly tuned features and parameters already in place. An example of this is the secondary control mode which applies separate gyro settings to the thrust vectoring nozzle, while the flight surfaces still retain separate gyro settings needed for optimum performance.
These features combine to offer a jet that has unrivaled performance in its class. It flies big, and performs more like Quique's 1/6th scale F-16 thrust vectoring turbine jet than a typical foam EDF. Altogether it is an unbeatable performer.
Features:
Thrust Vectoring Nozzle for the most advanced aerobatics, including 3D flight
Pre-Programmed Aura 8 AFCS with Firmware v1.9 (installed)
Expertly Engineered Ducting and Inlet Lips for Power and Efficiency
Modern Aerodynamics for High Performance and Easy Handling
Electric Retracts with Door Sequencer (installed)
Metal Trailing-Link Struts with Rubber Downstops (installed)
Optional lightweight wire landing gear struts (included)
Metal Clevis Connections on all Flight Control Surfaces
EPO Construction with Carbon Fiber Spars and Joiner Tubes
Ball Bearing Supported and Balanced All-Moving stabilizers
Large Battery Compartment from top with single Latch for easy Access
11 Blade 90mm Ducted-Fan for Amazing Performance and Sound (installed)
Potenza 80BLDF 1500kv Motor for excellent Power and Efficiency (installed)
120A HV ESC with external 5V/8A BEC (installed)
(7) Potenza DS15 Digital Metal Gear Flight Control & Vectoring Servos (installed)
(4) Potenza DS12 Digital Servos for Doors and Nose wheel Steering (installed)
2:00 to 4:00 minute flight times depending on battery choice and throttle management
Custom Trim Scheme and Decals Applied
The FlexJet TV is based on the excellent FlexJet and shares many parts with it. Key differences are:
Custom engineered and tooled thrust vectoring nozzle.
Powerful 8S HV system with in-runner motor and 120A HV ESC providing about 70% more Watts of power
Lighter EPO foam
2 additional DS15 servos for Thrust Vectoring
Custom tuned Aura program for world class TV stability. This allows a 'V-tail' type Thrust Vector mix to enhance the appearance and keep linkages discrete and away from the ground, Aura also allows Taileron mix, Elevator and Aileron control on the Stabs.
Includes standard FlexJet struts and light weight wire main struts for those who want to maximize performance. Light Foam wheels are standard.
Technical data
| | |
| --- | --- |
| Airfoil: | - |
| Building Skill: | Beginners |
| Control: | H,S,Q,M,V,EZFW |
| Drive Type: | Electro |
| Empty weight approx. (g): | - |
| Flight Skill: | Professional |
| Flight weight approx. (g): | 3220 |
| Fuselage: | EPO |
| Length (mm): | - |
| Manufacturer: | Premier Aircraft |
| Rec. Battery: | 8S/3500-4200mAh LiXX |
| Version: | PNP- PLUG N PLAY |
| Wing-span (mm): | 1056 |
| Wings: | EPO |
| recommend Motor: | Potenza 80-DF BL 1500 Kv |
Box contents
- robust model made of lighter EPO moulded foam, largely assembled.
- AURA 8 stabilization system, specially designed for thrust vector control.
- Thrust vector control with newly developed nozzle
- 7 pcs. Potenza DS15 Digital Servos
- 4 pcs. Potenza DS12 Digital Servos
- Potenza 80-DF BL 1500 Kv Brushless internal rotor Motor
- 90mm Impeller
- HobbyWing 120 HV controller
- electric retractable undercarriage
- Electric landing gear doors with door sequencer
- Assembly instructions in German and English


Videos
Das Produkt FLEXJET THRUST VECTOR 90MM EDF IMPELLER JET SUPER von PREMIER AIRCRAFT in der Kategorie Electric Jets hat eine Spannweite von 1056 sowie ein Gewicht von 3220. Die Steuerung des Modells erfolgt über die Funktionen H,S,Q,M,V,EZFW. Das Modell ist als PNP- PLUG N PLAY ausgeführt . Wir empfehlen einen 8S/3500-4200mAh LiXX Akku für dieses Elektroflugmodell.
* Erklärung Steuerfunktionen:
H ... Höhenruder
S ... Seitenruder
Q ... Querruder
M ... Motorsteuerung
V ... Vektorsteuerung
LK ... Landeklappen
SK ... Störklappen
WK ... Wölbklappen
EZFW ... Einziehfahrwerk
SKU ... Schleppkupplung
( ) ... optional - in Klammer geschriebene Steuerfunktionen sind bei dem beschriebenen Modell optional verfügbar